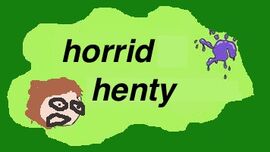 Horrid Henty
is a comic book series created by
Adam Morton
and first published in 1997. It is about a boy who is so disobedient that he is wanted by the government. The comics became so popular that an animated TV series airing on
Smash TV
since 1998 was made, as well as
Horrid Henty Land
, a theme park in
Chocthorpe
dedicated to its fans. A movie known as
Horrid Henty: All at Sea
was also created and shown in cinemas around
Volcanus
. In 2016 a short was made called
Storm Henty
.
Harry Smith, David Marshall and their friends are known to be huge fans of the series. This is much to the disapproval of James Smith, who dislikes the show and squeals to watch Fancy Hippos instead. Grace Smith and Liam Smith also appear to dislike the fact Harry enjoys the series, although the latter is secretly a fan of it.
Media
Characters
Trivia
Horrid Henty is a parody of Horrid Henry, with the characters having similar names to their counterparts.
Horrid Henty originated from a user's misspelling of Horrid Henry, and a Horrid Henry hater used this spelling for vandalism on the Horrid Henry Wiki.
Horrid Henty figures appear as good presents in the Switch the Labels! easter egg on The Bully Christmas Banter.