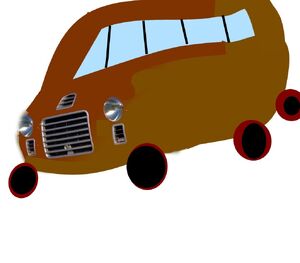 The RustBucket 2000 is a car owned by Liam Smith that originates from Rustbucket, a border town in western Pedia. It was available from 1984 to 2015. It is incredibly slow, makes farting noises when it accelerates, and Harry Smith has been to all sorts of rubbish places in it. The RustBucket 2000 is fuelled by real or artificial diarrhoea and emits methane gas when it is driven. It additionally has a notoriously loud horn that can be heard from five miles away, and an FM radio with a signal that keeps dropping out.
In the episode Harry Smith Destroys the RustBucket 2000, Harry smashed it up in the hope of the family getting a new, faster car. This backfired as Liam forced Harry to save up for a replacement RustBucket 2000 rather than a more up-to-date model.
The RustBucket 2000's theme tune is Hyper Hopper from the video game Strike Fighter. Peter Donald chose this track as he believes it sounds good accompanying the vehicle.
Fuel
As mentioned above, the RustBucket 2000 is fuelled by either real or artificial diarrhoea. While RustBuckets have traditionally used real diarrhoea, artificial diarrhoea was introduced in 1995 due to many people quitting the job of doing diarrhoea, along with the company's shortage of laxatives. While real diarrhoea is better suited for the engine, artificial diarrhoea does not smell as bad and causes less pollution.
Video game appearances
The Bully RPG: Attack of the Conformists
In The Bully RPG: Attack of the Conformists, Liam can be summoned to run over enemies with the RustBucket 2000. In a dream Harry has at one scene in the game, Liam arrives on the battlefield in the RustBucket 2000.
The Bully: Super Kart GP
The RustBucket 2000 appears as an unlockable vehicle in the video game The Bully: Super Kart GP. It can be driven by members of the heavy weight class. It is also confirmed to return as a vehicle in The Bully: Super Kart GP 2.
Statistics
Statistics of vehicles in The Bully: Super Kart GP are proportioned on a numerical scale, with 1 being the lowest value a certain trait can take, and 20 being the highest. The RustBucket 2000 mainly specialises in acceleration, off-road and weight.
Speed - 4
Acceleration - 15
Weight - 18
Handling - 7
Drift - 9
Boost - 8
Off-road - 16
See also